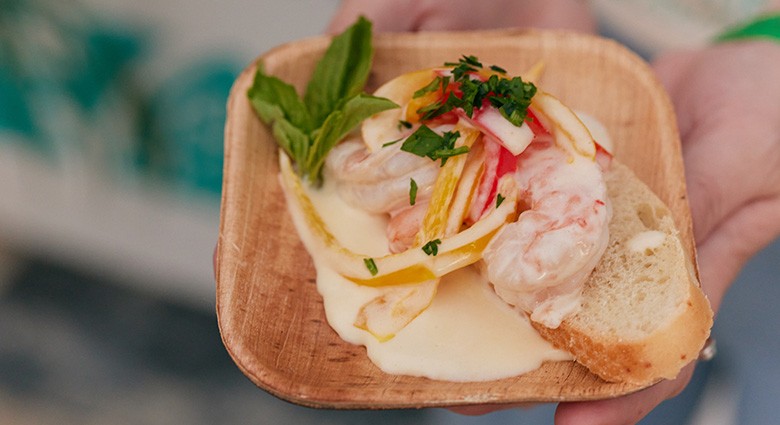 Recipes
Shrimp Scampi & Crostini
These bite size shrimp scampi appetizers are a crowd-pleaser! The creamy, garlic and wine scampi flavor paired with colorful peppers all layered over a toasty piece of baguette.

35 min

Intermediate
Instructions:
Rinse shrimp under cold running water and drain thoroughly. Season
with salt and pepper.
Heat a large sauté pan over medium high heat, add butter and
2 tablespoons of olive oil. Add shrimp to pan and sear on both sides
until lighty browned, but do not cook fully. Remove from pan and set
aside.
Add garlic and shallot to pan. Sauté for 3-4 minutes, add in red pepper
flake and bell peppers. Cook for 5 minutes or until everything is
softened.
Deglaze pan with white wine and lemon juice. Reduce by half. Add in
cream and cook until reduced by half. Add shrimp and finish cooking
as sauce thickens.
Slice baguette and rub with remaining olive oil. Toast in oven until
browned. Top crostini with sauce and garnish with parsley and basil.

Recipe for 5 people
Ingredients:
1 lb. shrimp, peeled and deveined
3 tablespoons butter
½ cup olive oil, divided
3 garlic cloves, sliced thinly
1 shallot, julienned
1 tablespoon red pepper flakes
1 cup bell pepper, julienned
1/2 cup white wine
1 lemon
2 cups heavy cream
1 baguette, sliced in 1/4-in. pieces
2 tablespoons Italian parsley, chopped
3 tablespoons basil, chopped