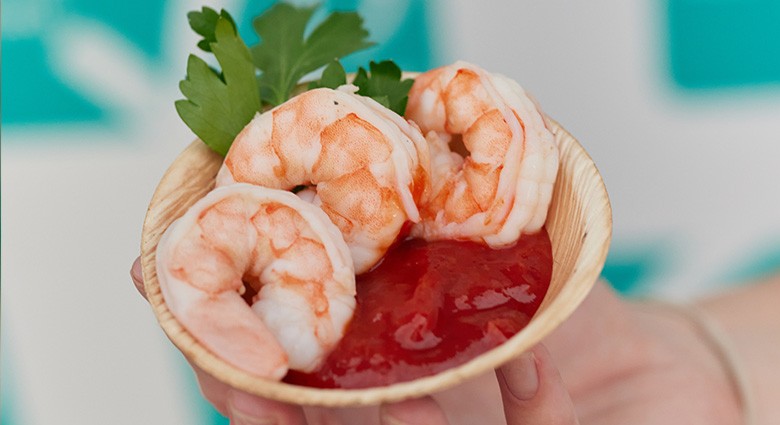 Recipes
Old Bay Shrimp Cocktail
It's a tasty spin on a class shrimp cocktail. These shrimp are packed with flavor old bay seasoning and paired with a spicy cocktail sauce.

20 min

Beginner
Instructions:
Rinse shrimp under cold running water. Cut lemon into quarters
and reserve 1 slice for sauce. In a large pot, combine shrimp, lemon
quarters, bay leaves, peppercorns, Old Bay seasoning and water.
Place on medium high heat, stirring frequently until shrimp reach
145 degrees. Do not boil water or let water temperature go above
180 degrees.
For cocktail sauce, place ketchup, horseradish, chili sauce, Tabasco
and Old Bay seasoning in a large mixing bowl and whisk until all
ingredients are incorporated.
Strain shrimp and discard water. Chill shrimp for at least 2 hours.
Serve in chilled vessel with cocktail sauce.

Recipe for 5 people
Ingredients:
SHRIMP
1 lb. shrimp
2 lemons
4 bay leaves
6 whole peppercorns
1/2 cup Old Bay seasoning
1 gallon water
SAUCE
1 tablespoon ketchup
1/4 cup horseradish
2 cups Heinz chili sauce
1 tablespoon Tabasco
1 tablespoon Old Bay seasoning