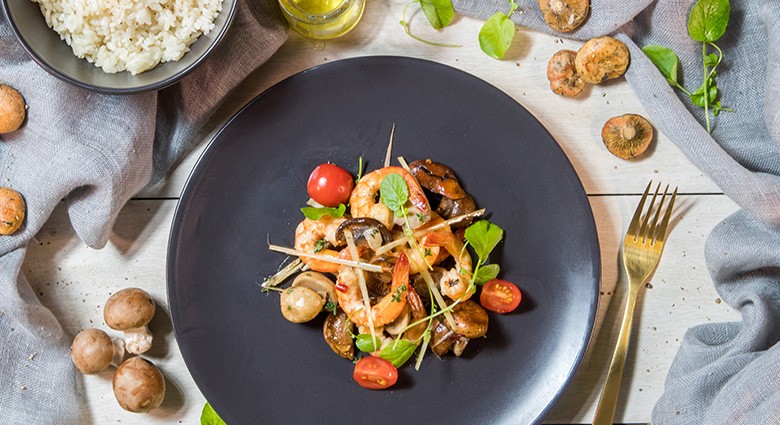 Recipes
Shrimp with Mushrooms and Lemongrass
This simple, and deliciously aromatic dish is perfect for family gatherings, holiday events, and even a flavor packed lunch you can eat all week!

15-30 min

Intermediate
Defrost the shrimp

Chop the portobella and chanterelle mushrooms,

cut the tender part of the lemongrass branches into thin strips, slice the garlic and finely chop two fresh chilies after extracting their seeds.

In a pan, heat three tablespoons of olive oil, add the garlic, chili and shrimp, season with salt and pepper and cook for one minute, until the shrimp are reddish in color

Add the chopped mushrooms, lemon grass and some thyme leaves to the pan. Stir gently for another minute, until the mushrooms are tender.

Garnish the dish with some watercress or arugula leaves and some cherry tomatoes.

Accompany with white or basmati rice.

Recipe for 4 people
Ingredients:
1 bag Vannamei Shrimp

10 portobella mushrooms

8 chanterelle mushrooms

2 fresh chilies

fresh thyme

2 garlic cloves

3 branches of lemongrass

White or basmati rice

Olive oil

Salt and pepper

A few leaves of watercress or arugula

Some cherry tomatoes