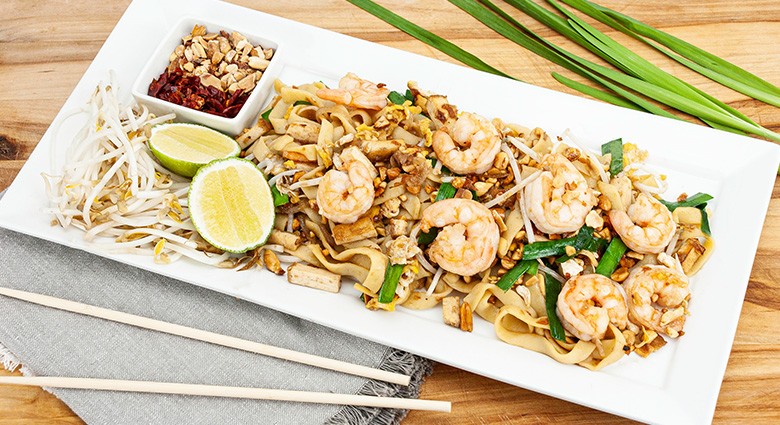 Recipes
Protein Pasta Pad Thai

10 min

Intermediate
Instructions:
Add 2 tbsp of peanut oil to a very hot wok, add shrimp, cook for about 30 seconds. Add fried garlic, tofu, and shallots, and cook for 1-2 minutes.
Move the cooked items to the side of the wok and add 1 tbsp of oil to the center. Add the egg and cook without stirring it too much. Be careful not to scramble the egg. After about 30-45 seconds, mix in the shrimp and other ingredients from side of wok.
Add the Pescanova Protein Pasta and water, adjust heat to medium-high, cook for 2 minutes while continually stirring.
Once the pasta is warm, add fish sauce, tamarind sauce, and sugar. Cook for about 30 seconds or until the sauce is warm and the sugar has melted.
To finish, add chili flakes, chopped peanuts, bean sprouts, and chives. Cook for 30 seconds before plating. Garnish with lime wedge, more beansprouts, and peanuts.

Recipe for 2 people
Ingredients:
1 package (9oz) Pescanova Protein Pasta made from Wild Alaska Pollock
3 tbsp Peanut Oil
1 cup Shrimp, Peeled & Deveined
2 tsp Fried Garlic
1/4 cup Tofu, Medium Dice
2 tbsp Shallot, Medium Dice
1 Egg
2 tbsp Water
1 tbsp Fish Sauce
2 tbsp Tamarind Paste
1 tbsp Sugar
1 tsp Chili Flakes
3 tbsp Peanuts, Crushed
1/4 cup Bean Sprouts
2 tbsp Chives
2 Lime Wedges