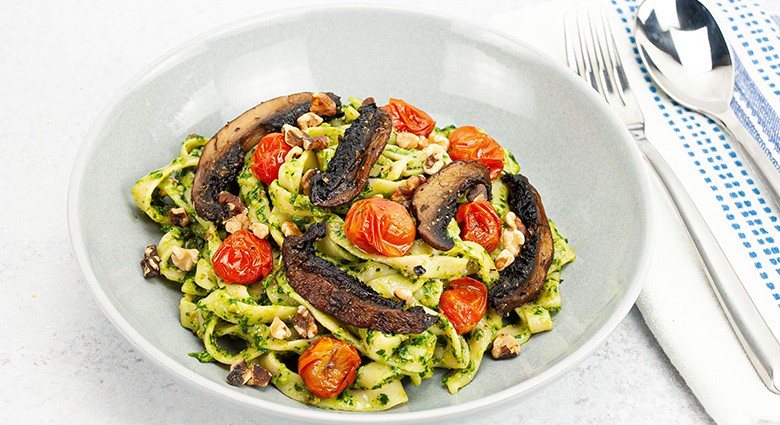 Recipes
Kale Pesto Protein Pasta with Grilled Portobello
This dish is loaded with savory flavors and beautiful colors. We've sauced our Protein Pasta made from Wild Alaska Pollock in a nutty kale pesto and paired it with grilled portobello mushrooms for a dish that will keep guests coming back!
View our Protein Pasta made from Wild Alaska Pollock.
View our Recipe Card.

25 min

Intermediate
Instructions:
For the pesto sauce, cook the chopped kale leaves in a large pot of boiling salted water for about 30 seconds. Remove and strain out excess water and let cool. Add cooked kale, basil, pine nuts, pistachio, 1/4 cup olive oil, garlic, and Parmesan to the food processor and blend until very smooth.
Heat oven to 400F. Slice the portobello and mix it with cherry tomatoes. Toss with 1/4 cup olive and Italian seasoning, salt, and pepper. Roast vegetable mix for 20 minutes until cooked.
Heat the Pescanova Protein Pasta over medium-high heat for 2 minutes, stirring occasionally. Add the pesto sauce to the pasta and heat for 1 more minute to heat thoroughly.
Add cooked pasta to a serving dish and garnish with cooked portobello ,roasted tomato, and toasted walnuts.

Recipe for 2 people
Ingredients:
1 package (9oz) Pescanova Protein Pasta made from Wild Alaska Pollock
1 cup Tuscan Kale, ribs and stems removed, rough chop
1/4 cup Basil leaves
3 tbsp Pine Nuts, toasted
2 tbsp Pistachios
1/2 cup Olive Oil extra-virgin
1 clove Garlic, peeled
2 tbsp Parmesan, finely grated
1/2 tsp Ground Black Pepper
1/2 tsp Salt
1/2 cup Portobello Mushrooms Sliced, Roasted
1/4 cup Cherry Tomato Roasted
1/2 tbsp Italian Seasoning
2 tbsp Walnuts toasted, chopped