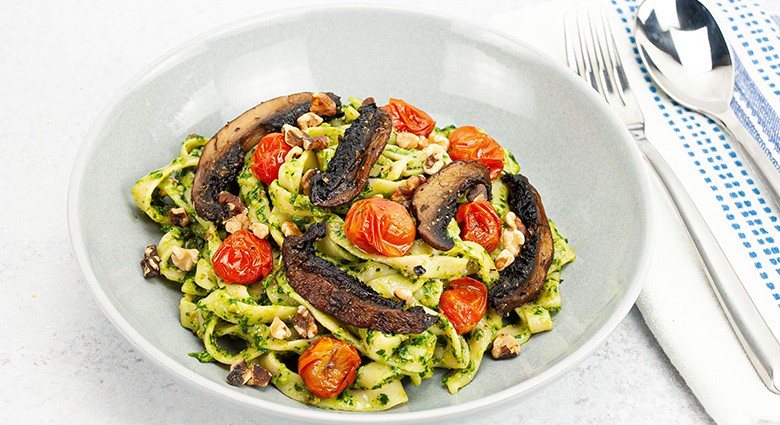 Recipes
Kale Pesto Protein Pasta with Grilled Portobello
This dish is loaded with savory flavors and beautiful colors. We've sauced our Protein Pasta made from Wild Alaska Pollock in a nutty kale pesto and paired it with grilled portobello mushrooms for a dish that will keep guests coming back!
View our Recipe Card.

25 min

Intermediate
1. For the pesto sauce, cook the chopped kale leaves in a large pot of boiling salted water for about 30 seconds. Remove and strain out excess water and let cool. Add cooked kale, basil, pine nuts, pistachio, 1/4 cup olive oil, garlic, and Parmesan to the food processor and blend until very smooth.
2. Heat oven to 400F. Slice the portobello and mix it with cherry tomatoes. Toss with 1/4 cup olive and Italian seasoning, salt, and pepper. Roast vegetable mix for 20 minutes until cooked.
3. Heat the Pescanova Protein Pasta over medium-high heat for 2 minutes, stirring occasionally. Add the pesto sauce to the pasta and heat for 1 more minute to heat thoroughly.
4. Add cooked pasta to a serving dish and garnish with cooked portobello ,roasted tomato, and toasted walnuts.

Recipe for 2 people
Ingredients:
Ingredients:
1 cup Tuscan Kale, ribs and stems removed, rough chop
1/4 cup Basil leaves
3 tbsp Pine Nuts, toasted
2 tbsp Pistachios
1/2 cup Olive Oil extra-virgin
1 clove Garlic, peeled
2 tbsp Parmesan, finely grated
1/2 tsp Ground Black Pepper
1/2 tsp Salt
1/2 cup Portobello Mushrooms Sliced, Roasted
1/4 cup Cherry Tomato Roasted
1/2 tbsp Italian Seasoning
1 package (9oz) Pescanova Protein Pasta made from Wild Alaska Pollock
2 tbsp Walnuts toasted, chopped