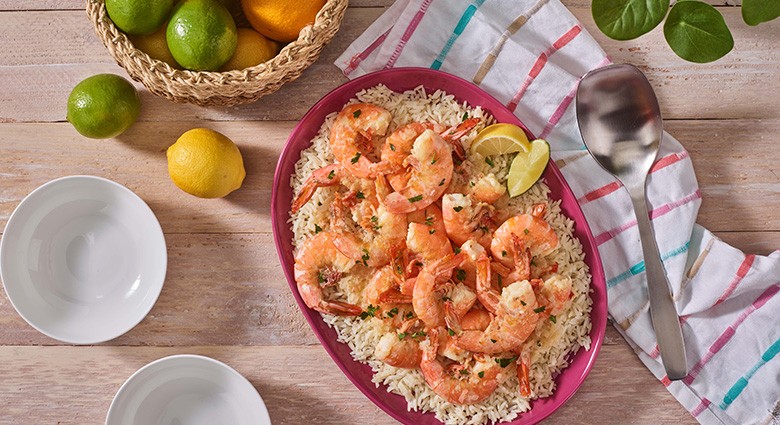 Recipes
Ginger Citrus Vannamei Shrimp
The zest of citrus and the spice of ginger are combined to highlight white shrimp as the star of the show in this delectable dish!

15 min

Intermediate
Instructions:
In a large skillet, heat olive oil over medium high heat
Add shallot and cook until fragrant and translucent
Add ginger and shrimp and cook until shrimp is almost done, stirring frequently.
Add juices and stir until heated 1 to 2 minutes.
Stir in butter, a few pieces at a time until the sauce is silky.
Serve hot as is, or over a bed of rice, or toss with your favorite noodles.

Recipe for 4 people
Ingredients:
1/4 cup olive oil
1 large shallot, minced (1/4 cup)
2 tablespoons freshly grated ginger
1 pound Vannamei Shrimp, P&D (tail on)
Juice of two lemons (8 tablespoons)
Juice of one lime (2 tablespoons)
Juice of one orange (5 tablespoons)
1/4 cup unsalted butter, cut into pieces
Salt and pepper, to taste
Rice or noodles, optional