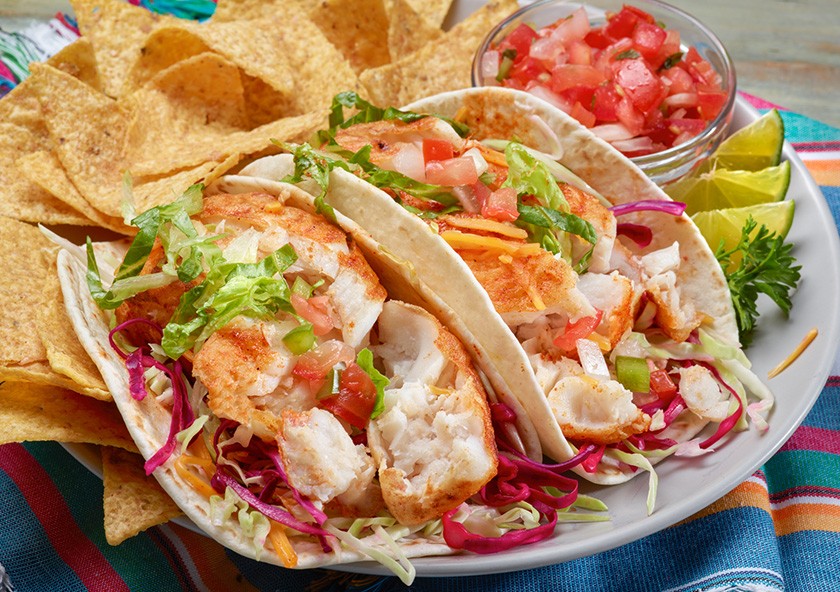 Recipes
Cape Hake Tacos
Your Taco Tuesday has never looked so good! These easy-to-make tacos are refreshing, tasty, and packed with crispy, flaky Cape Hake fish.

30 min

Beginner
Instructions:
Dice the tomatoes and onion, seed and finely mince the jalapeno pepper, chop the cilantro, quarter the limes.
Make the pico de gallo: combine the tomato, onion, jalapeno, cilantro, the juice of two lime quarters or two tablespoons of lime juice in a bowl, add salt and pepper if desired, set aside.
Mix your green cabbage, purple cabbage, and romaine lettuce together in a bowl and set aside.
Pat the Cape Hake dry and sprinkle with taco seasoning.
Bake the Cape Hake at 350°F for 18-20 minutes.
Optional: Warm tortillas if desired. Cut Cape Hake into smaller pieces if desired.
Layer your tortillas with the blended lettuce mix, cheddar cheese, taco-seasoned Cape Hake pieces, top with pico de gallo.
Garnish plate with sliced limes.
Time Savers:

Swap the cabbage and romaine for an Asian Blend salad mix
Purchase pre-made pico de gallo instead of making your own

Recipe for 2 people
Ingredients:
2 tablespoons of taco seasoning
2 flour tortillas
1lb Cape Hake fillets
1/2 cup shredded cheddar cheese
1/2 cup Romaine shredded lettuce
1/4 cup purple cabbage
1/4 cup green cabbage
3-4 medium tomatoes
1/2 medium onion
1 jalapeno pepper
1/2 cup cilantro