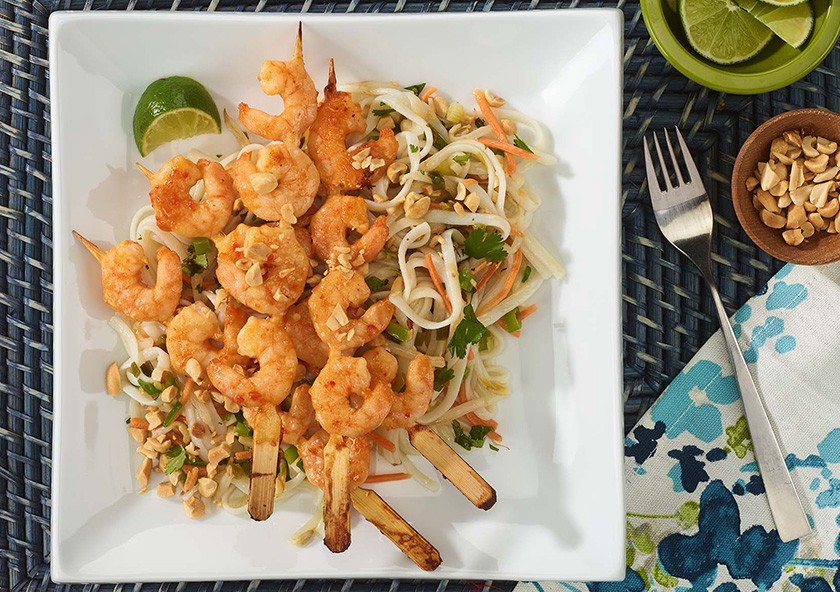 Recipes
Sweet & Spicy Shrimp Skewers with Noodles
Sweet, Spicy, and ready in just minutes. These sassy skewers combine the delicious tastes of sweet and heat for an ideal addition to any cookout or a quick weeknight dinner.
View our Sweet & Spicy Shrimp Skewers.

15 min

Intermediate
Instructions:
Cook noodles according to package directions, just until tender; set aside.
Prepare skewers according to package directions; keep warm.
Meanwhile, heat oil over medium high heat in a large skillet or wok. Add garlic and carrots and cook 1 to 2 minutes until fragrant, stirring frequently. Add bean sprouts and scallion and cook 1 minute more. Add noodles, lime juice and cilantro to pan and toss together until hot. Remove from heat. Place on large serving platter. Sprinkle with peanuts and top with skewers.

Recipe for 2 people
Ingredients:
8 ounces flat rice noodles
3 tablespoons oil
2 cloves garlic, minced
1/2 cup julienne carrots
1/2 cup bean sprouts
3 scallions, sliced
Juice of 2 limes
Fresh cilantro, chopped, to taste
1/4 cup dry roasted peanuts, coarsely chopped