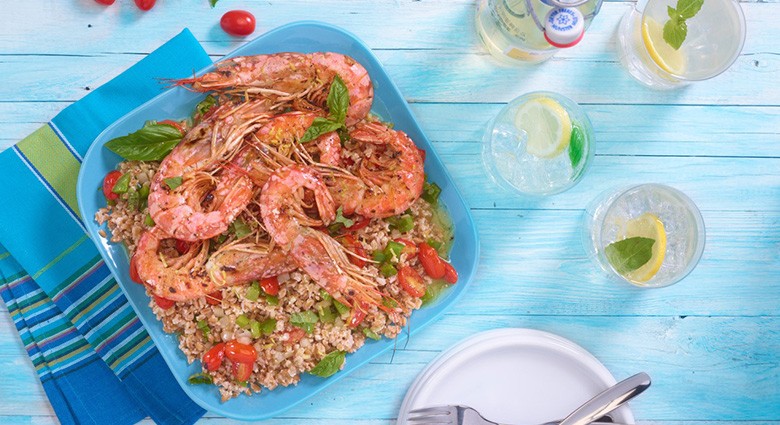 Recipes
Argentine Red Shrimp with Farro
This dish combines all the Mediterranean flavors you love together from refreshing lemon and ripe tomatoes to hearty farro grains with rich, succulent Argentine Red Shrimp.

30 min

Intermediate
Instructions:
In a medium bowl, toss together shrimp, 1/4 cup olive oil, zest, tomatoes, salt and pepper; set aside.
In a large skillet, heat 1 tablespoon olive oil over medium high heat. Sauté green pepper and shallot 4 to 5 minutes until softened and fragrant, stirring occasionally. Add vegetable broth and cook 3 minutes more. Remove 1 cup of broth to a heat-safe container; set aside. Add farro, bring to a boil and then simmer 20 minutes or until liquid is absorbed.
Meanwhile, spread shrimp mixture onto a rimmed baking sheet and broil 4 to 5 minutes, turning halfway through, until shrimp are fully cooked.
Stir lemon juice, parmesan and basil into farro. Season with salt and pepper, to taste.
To serve, place farro mixture on a shallow serving bowl and top with roasted shrimp mixture. Drizzle the reserved broth over and around all. Garnish with additional parmesan and basil, if desired. Serve immediately.

Recipe for 2 people
Ingredients:
1 pound Pescanova HOCO Argentine Shrimp
1/4 cup plus 1 tablespoon olive oil, divided
1 tbsp zest of one lemon
1 cup grape tomatoes, halved
½ teaspoon each salt and pepper
1 cup green pepper, diced
1/4 cup large shallot, minced
32 ounces (4 cups) vegetable broth
1 1/2 cups farro
1/3 cup juice of 1 lemon
1/2 cup grated parmesan
1/2 ounce basil leaves, chopped