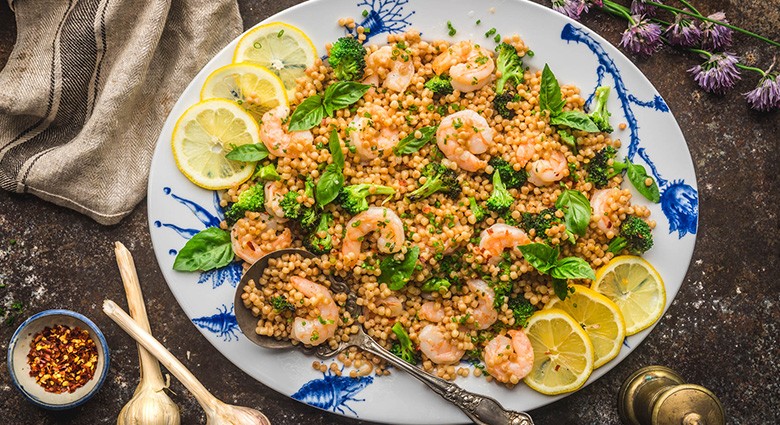 Recipes
Butter & Garlic Shrimp with Couscous and Broccoli

20 min

Beginner
Instructions:
Heat 1 tablespoon of the oil in a medium saucepan set over medium-high heat. Once the oil is shimmering, add the couscous and cook, stirring often, until the grains turn light brown and begin to smell toasty, about 2 to 3 minutes.

Add the stock (or water), season with salt and pepper and brink the liquid to a boil. Lower the heat to medium and cook until all the liquid is absorbed, 10-12 minutes. Fluff with a fork and set aside.

While the couscous is cooking, heat the other tablespoon of oil in a medium skillet set on medium-high. Add the broccoli and cook, tossing often, until the broccoli chars in spots and becomes tender, 5-6 minutes.

Lower the heat to medium, and add the shrimp and flavored butter pats from the bag, and toss until the shrimp is fully cooked and everything is coated in the flavored butter sauce.

Add the couscous and toss until combined. Stir in lemon juice and fresh herbs and transfer to a serving platter.

Recipe for 4 people
Ingredients:
2

tablespoons

olive oil

divided

1 ½

cups

pearl or Israeli couscous

2

cups

low sodium chicken broth

(or vegetable/fish broth or water)

1/2

teaspoon

kosher salt

plus more to taste

1/4

teaspoon

freshly cracked black pepper

1

small head broccoli

florets and tender stems cut into 1-inch pieces

1

tablespoon

lemon juice

plus more for serving

1/4

cup

roughly chopped chives, basil and/or parsley