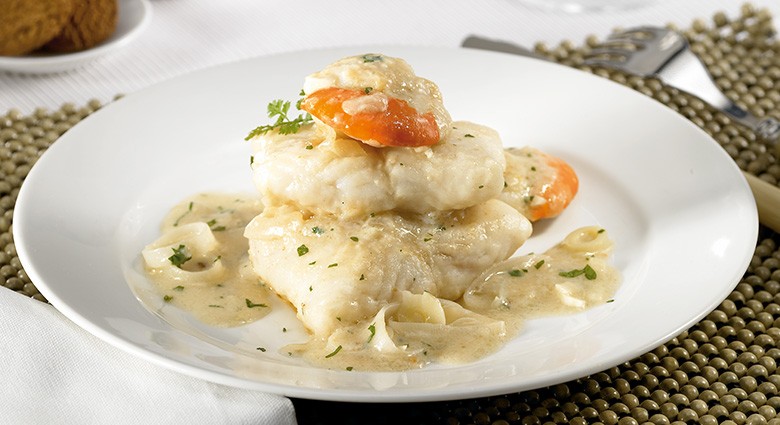 Recipes
Cape Hake with Scallops and White Wine Sauce
This rich, creamy honey and white wine sauce is the perfect coating for mild flaky Cape Hake and succulent scallops. It's a smooth, comforting dish seafood lovers dream of.

30 min

Intermediate
Defrost the scallops and Cape Hake fillets
Coat the Cape Hake fillets with salt, pepper, and flour. Coat the scallops with flour.
In a frying pan, cover the bottom with olive oil. Cook the Cape Hake fillets for 1 minute on each side, remove, drain and reserve. Then cook the scallops in the same way.
Strain that oil into another pan and sauté the finely chopped leek until it is soft without toasting. Add the Cape Hake and scallops to the pan. Add the white wine and let it reduce. Add the cream, lower the intensity of the heat, stir and season with salt.
Add the honey to the sauce. Stir well and cook for a few minutes.
Serve.

Recipe for 4 people
Ingredients:
4 Cape Hake fillets
1 bag of scallops
4 ounces of white wine
7 ounces of cooking cream
2 ounces honey
1 tablespoon of flour
3.5 ounces of leek, finely chopped
1 pinch of white pepper
1 pinch of salt
Olive oil