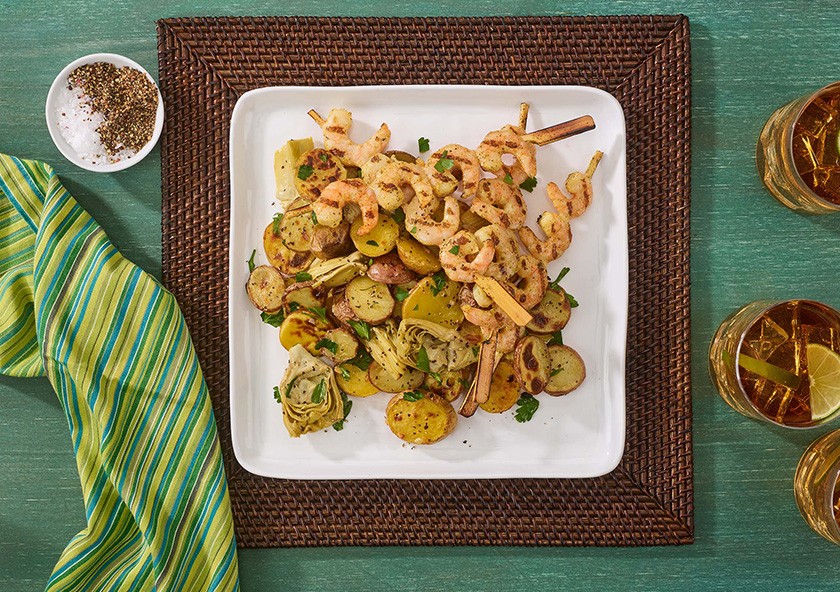 Recipes
Garlic Butter Shrimp Skewers with Roasted Artichokes & Potatoes
When the party is calling for some classic, comforting food, our buttery, garlicky shrimp skewers with hearty roasted potatoes and light artichokes is your dish!
View our Garlic Butter Shrimp Skewers.

25 min

Intermediate
Instructions:
Preheat oven to 425F
Prepare skewers according to package directions; keep warm.
Meanwhile, cut artichokes in half and place in a medium bowl. Add potato coins and garlic and drizzle with olive oil; toss together. Season with salt and pepper.
Spread artichoke mixture onto a rimmed baking sheet in a single layer and roast 15 to 18 minutes, turning hallway through roasting time. Toss with parmesan. Place on a serving platter and top with skewers.

Recipe for 2 people
Ingredients:
16-ounces whole artichoke hearts, canned or frozen
12 ounces baby potatoes cut into thin rounds
1/4 cup olive oil
Salt and pepper, to taste
1/4 cup grated Parmesan