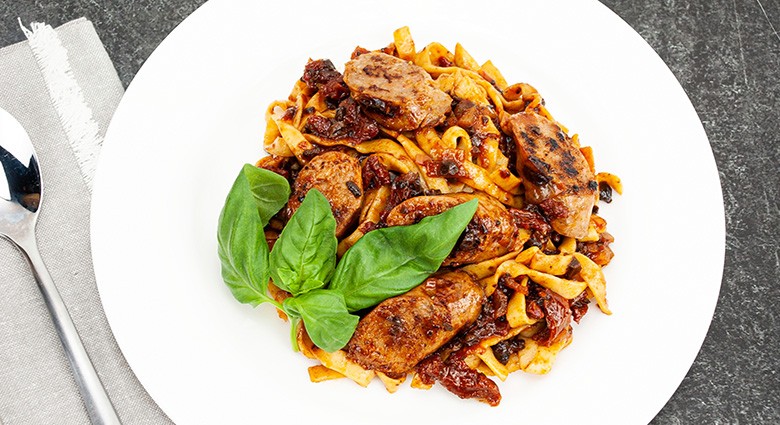 Recipes
Black Garlic Protein Pasta with Spicy Italian Sausage
This spicy twist on the classic marinara pasta dish features our Protein Pasta made from Wild Alaska Pollock, spicy Italian Sausage, and a flavorful black garlic and sundried tomato sauce.
View our Recipe Card.

15 min

Intermediate
1.To make the sauce, add olive oil to a large sauté pan and place it over medium heat. Add the shallots and cook 3-4 minutes until soft. Add the black garlic, sauté for 2 more minutes until they are soft. Add tomato paste and cook for 2 more minutes. Season with salt and pepper, then add white wine and sundried tomatoes and cook for 2-3 minutes on high heat to reduce the sauce by 1/3.
2.Once the sauce is made, add the Pescanova Protein Pasta and grilled spicy Italian sausage to the sauce and cook on medium-high heat for another 2 minutes to heat thoroughly.
3.Add cooked pasta to a serving dish and garnish with torn basil.

Recipe for 2 people
Ingredients:
Ingredients:
3 tbsp Olive Oil
1 tbsp Shallot Pealed, Sliced Thinly
2 tbsp Black Garlic Peeled, Small Dice
1 tbsp Tomato Paste
1/2 tsp Salt
1/2 tsp Ground Black Pepper
1/4 cup White Wine Dry
1 tbsp Sundried Tomatoes Medium dice
1 package (9oz) Pescanova Protein Pasta made from Wild Alaska Pollock
1 cup Hot Italian Sausage Grilled, sliced
1 tbsp Basil Fresh, Torn