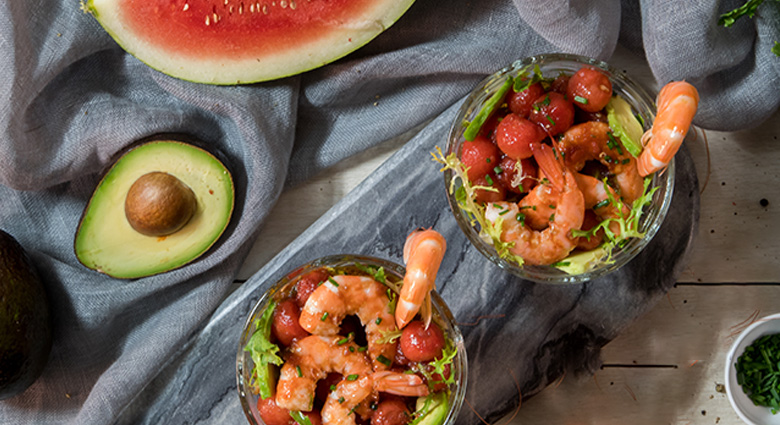 Recipes
Shrimp & Watermelon Salad
This refreshing salad is loaded with a combination of sweet and savory flavors between the juicy watermelon balls, crisp escarole, creamy avocado, shrimp and balsamic vinegar.

15 min

Beginner
Thaw the shrimp, cut into pieces. Leave some whole to decorate the glasses.

Cut an avocado into small slices. Reserve. Cut a watermelon in two halves and extract 2 cups of watermelon balls. Reserve.

Prepare 7oz of watermelon juice in the blender and reserve.

Mix the watermelon balls with 2 tablespoons of sugar diluted in the watermelon juice, 8 drops of Tabasco, a pinch of salt and 1/2 a cup of basalmic vinegar. Add 8 tablespoons of extra virgin olive oil, mix well and keep cold.

Serve in cocktail glasses: at the bottom, a bed of escarole, on top a few slices of avocado, then some watermelon balls and cut shrimp. Coat with abundant vinaigrette, sprinkle with a little chopped chives to garnish and place a whole shrimp on the edge of the glass.

Recipe for 6 people
Ingredients:
1 bag of cooked Vannamei Shrimp
1 avocado
1 watermelon
1 escarole
2 tablespoons of sugar
Tabasco
Balsamic vinegar
Fresh chives to garnish
Extra virgin olive oil
Salt