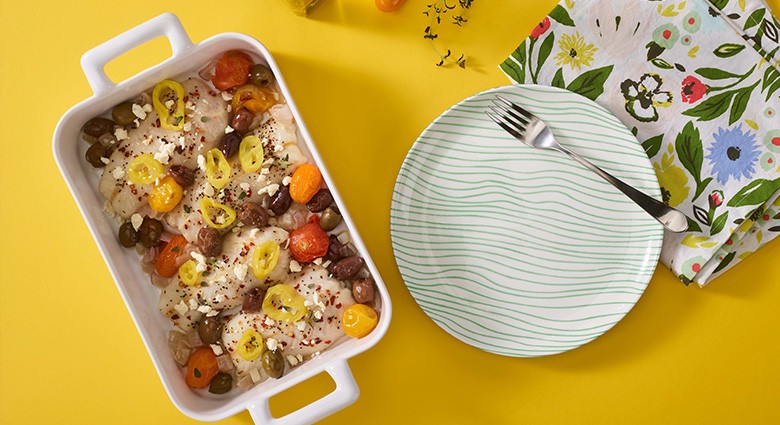 Recipes
Mediterranean Baked Cape Hake
All of the Mediterranean flavors you love come together in this quick and easy baked meal. We've covered our Cape Hake in shallots, cherry tomatoes, feta, olives, and banana peppers for a flavor explosion that only takes one pan!

25 min

Beginner
Instructions:
Preheat oven to 450oF.
Pour olive oil into a rimmed baking sheet and place in oven to preheat for 5 minutes.
Meanwhile, toss fish portions together with salt, pepper and red pepper flakes.
Add fish, shallots, tomatoes, olives, and banana peppers to pan. Bake 10 to 15 minutes until fish is fully cooked.
Meanwhile strip leaves off thyme sprigs. Sprinkle over finished hake mixture and serve immediately.

Recipe for 4 people
Ingredients:
1/3 cup olive oil
1 pound Cape Hake Portions
1/2 teaspoon each salt and pepper
1/2 teaspoon red pepper flakes
2 large shallots, chopped
1 1/2 cups cherry tomatoes
1 cup olive medley
1/4 cup sliced banana peppers
Fresh thyme sprigs
1/2 cup crumbled feta