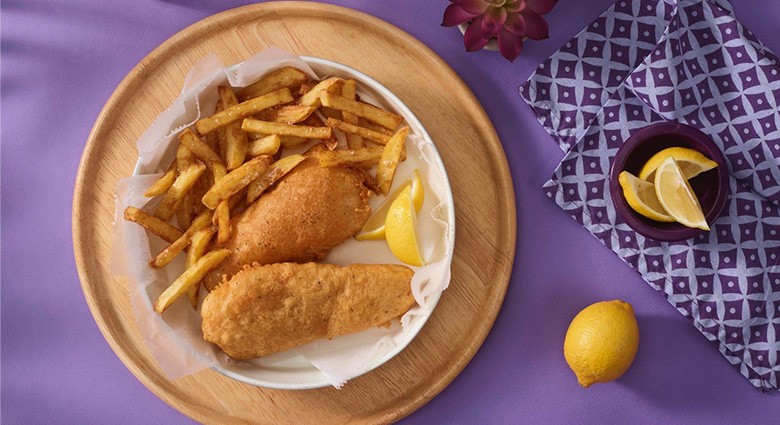 Recipes
Cape Hake Fish & Chips
It's a Friday night classic, fried fish and chips! You can't go wrong with this crispy Cape Hake that's been fried to perfection.

40 min

Intermediate
Instructions:
Set aside 3 tablespoons flour. Whisk together flour, cornstarch, baking powder, salt and pepper.
Slowly add the beer while whisking until the batter is thick and smooth. Chill at least 30 minutes.
Meanwhile, slice potatoes into chips and place in a pot of salted cold water. Bring to a boil, then reduce heat and simmer 3 to 5 minutes. Drain them and dry with paper towels; set aside.
Heat the oil to 350oF. Cook the chips in batches, 2 to 3 minutes each, then remove to a paper towel lined plate or tray.
Place the reserved 3 tablespoons flour in a shallow bowl or on a paper plate. Dredge the fillets in the flour and shake off excess. Dip each fillet into the batter and place in the hot oil. Cook 6 to 8 minutes until golden, turning as needed. Remove to paper towels to drain. Sprinkle with a little salt and keep hot.
Meanwhile, raise the temperature of the oil to 400oF. Cook the chips a second time in batches until golden and crisp, about 5 minutes. Serve fish and chips immediately with malt vinegar or your favorite condiment.

Recipe for 4 people
Ingredients:
4  Cape Hake Fillets
1/2 cup all-purpose flour, divided
1/2 cup cornstarch
1 teaspoon baking powder
1/2 teaspoon kosher salt
1/4 teaspoon pepper
2/3 cup beer
2 pounds potatoes, peeled
Peanut or vegetable oil for frying
Malt vinegar