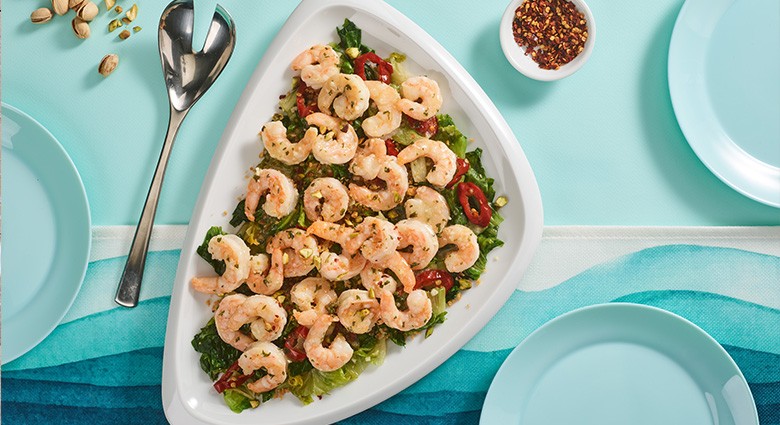 Recipes
Salted Butter & Garlic Shrimp with Escarole
Your favorite salad just got an upgrade! We combined our Salted Butter & Garlic Shrimp with crisp escarole, crunchy pistachios, comforting breadcrumbs and pickled cherry peppers.
View our Salted Butter & Garlic Shrimp.

15 min

Beginner
Instructions:
Prepare Toss & Serve according to package directions; keep warm.
Meanwhile, in a large skillet melt 1 tablespoon butter over medium heat. Add panko and stir constantly until lightly toasted, 2 to 3 minutes. Remove to a small bowl and toss with red pepper and pistachios; set aside.
Add remaining 2 tablespoons of butter and olive oil to skillet and heat over medium high heat until butter is melted. Add garlic and sauté 1 minute. Add escarole and cherry peppers and sauté until escarole is wilted, stirring frequently.
Remove to a serving platter, sprinkle with panko mixture and top with Salted Butter and Garlic Shrimp.

Recipe for 4 people
Ingredients:
3 tablespoons butter, divided
1/4 cup panko breadcrumbs
1/4 teaspoon crushed red pepper
2 tablespoons pistachios, coarsely chopped
2 tablespoons olive oil
2 cloves garlic, minced
1 head escarole, cleaned and cut into strips
1/2 cup pickled cherry peppers, sliced
Salt and pepper, to taste